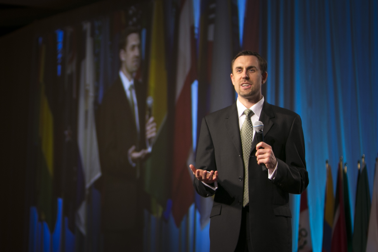 Teaching is a passion. It gives me an opportunity to share what I have learned both through extensive study as well as in my own experience. My interests include topics such as diet, exercise, musculoskeletal rehabilitation, personal growth and leadership. I am an avid proponent of living a healthy lifestyle and want everyone I come into contact with to be in the best physical, mental and emotional health they possibly can.
I love working with individuals who are dissatisfied with the status quo and know that things can be better. I enjoy helping people and businesses reach the next level. I also work with leaders, executives, business owner and healthcare providers to meet their most challenging objectives. These can be maximizing productivity in the workplace, lowering healthcare costs, decreasing injuries and absenteeism, or improving quality of life.
Topics:
Nutrition and Exercise
Workplace Wellness
Injury Prevention and Rehabilitation
Leadership Development
Audiences:
Conferences and Seminars
Colleges and Universities
Community and Church Groups
Corporate Wellness Programs
I completed the Florida Medical Association Physician Leadership Program, which in conjunction with the Leadership Development Institute at the University of Florida, provides an in-depth 10-month program enabling physicians to enhance their leadership skills and provide core aptitudes to excel within the business world, organized medicine, medical staffs, group practices and the public policy arena.
I am also a John Maxwell certified trainer, which not only provides me top-notch teaching material from the world's premier leadership guru, but also access to continued coaching and mentoring from Dr. Maxwell and his staff of exceptionally qualified coaches and speakers across the globe.
Whether it is through seminars, corporate wellness programs, keynote addresses, leadership training, community-wide presentations, my goal is to bring value to the lives of as many people as possible.
If I can add value to your organization please contact me.